AUGUSTA, GA – The Masters is at or near the top of almost every sports fan's must-do bucket list, unless of course it's going to be raining buckets. That was the mid-morning forecast we faced for Saturday's Round 3 when we embarked from Atlanta for the two-hour drive to Augusta – 100 percent chance of rain from Noon to 4 pm with thunderstorms likely to stop play.
But after driving on iconic Interstate 20 through intermittent rainstorms that clearly seemed headed to Augusta, Masters magic took hold and the Golf Gods at Augusta won out over Mother Nature, as usual.
Although the skies seemed brighter up ahead, we weren't sure the forecasts were wrong until we drove past The Bobby Jones Expressway and one exit later got off at the famed Washington Road exit and parked right at Augusta National, which of course is free for all patrons.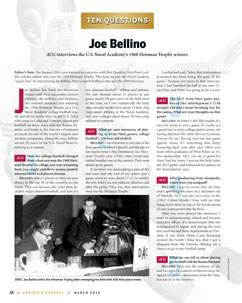 Joe Bellino
Joe Bellino has lived the American Dream with three successful careers: athletics, the military and business. His seminal moment was winning the 1960 Heisman Trophy as a U.S. Naval Academy college football star. He served on active duty in the U.S. Navy with tours in Cuba and Vietnam, played pro football for three years with the Boston Patriots, and today is the director of national accounts for one of the world's largest auto auction companies. Along the way, Bellino served 29 years in the U.S. Naval Reserve, retiring as a captain.
---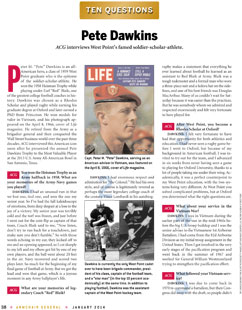 Pete Dawkins
Peter M. "Pete" Dawkins is an all- American hero, a class of 1959 West Point graduate who is the epitome of the soldier-scholar-athlete. He won the 1958 Heisman Trophy while playing under Earl "Red" Blaik, one of the greatest college football coaches in history. Dawkins was chosen as a Rhodes Scholar and played rugby while earning his graduate degree at Oxford and later earned a PhD from Princeton. He won medals for valor in Vietnam, and his photograph appeared on the April 8, 1966, cover of Life magazine. He retired from the Army as a brigadier general and then conquered the Wall Street business world over the past three decades. ACG interviewed this American icon soon after he presented the annual Pete Dawkins Trophy to the Most Valuable Player at the 2013 U.S. Army All-American Bowl in San Antonio, Texas.
---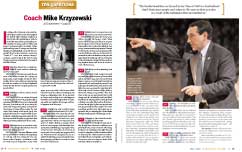 Coach Mike Krzyzewski
In college,Mike Krzyzewski was a star basketball player under Coach Bob Knight at the United States Military Academy at West Point. After graduating in 1969, he served five years in theArmy and then returned to his alma mater at USMA and began his phenomenally successful college head coaching career.Duringmore than three decades as head basketball coach of DukeUniversity's Blue Devils, Krzyzewski – known as "Coach K" – won four national championships, a gold medal at the 2008 Beijing Olympics, and was inducted into the Basketball Hall of Fame.
---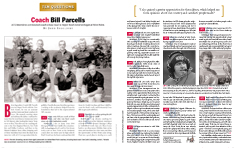 Coach Bill Parcells
ACG interviews a renowned coach whose road to Super Bowl victories began atWest Point.
November, 2011
Before legendary Coach Bill Parcells won two Super Bowls with the New York Giants, he was an assistant coach at Army and head coach at Air Force. His natural coaching talent and military discipline combined to make himthemost famous turnaround artist in NFL history.After leading the Giants "from worst to first," Parcells took his coaching talents to the New England Patriots, New York Jets and Dallas Cowboys, and then to the Miami Dolphins' front office, bringing each of these franchises back from the dead. In an interview with ACG Correspondent John Ingoldsby, Parcells discusses how his experience coaching at the academies helped form the foundation that led to his unprecedented NFL success.
Coach Bill Parcells: ACG's Exclusive Interview With the NFL Coaching Icon
September 12,2011
The November 2011 issue of Armchair General features John Ingoldsby's "10 Questions" interview with legendary NFL coach Bill Parcells. In this "web extra" we present the complete text of the interview, including several additional questions and answers.
---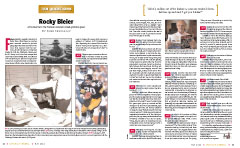 Rocky Bleier
ACG interviews the Vietnam veteran turned gridiron great.
May, 2011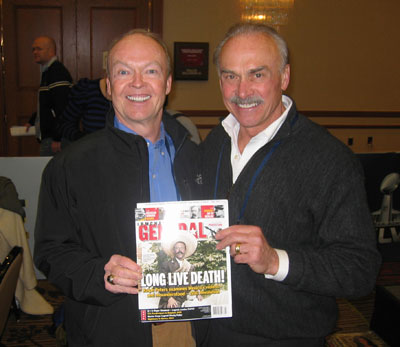 Fighting Back, the inspirational story of Rocky Bleier that traces his journey from wounded warrior to gridiron great, captivated America in the 1970s. Since that famous book-turnedmovie, the Notre Dame running back drafted by both the Pittsburgh Steelers and the U.S. Army in 1968 has lived a sequel that could best be titled Giving Back. Since Bleier's 1980 retirement, the four-time Super Bowl winner has immersed himself inmilitary veterans causes with the same determination he used to conquer the severe foot injuries he suffered in Vietnam. ACG Correspondent John Ingoldsby, who covered Bleier and the Steelers during their legendary run, interviewed Number 20 at Super Bowl XLIV in South Florida.
Interview With the Wounded Vietnam War Veteran
March, 2011
The May 2011 issue of Armchair General features an interview titled "10 Questions: Rocky Bleier." This is the uncut version of that interview, presented as an online extra for Armchair General readers—and fans of Rocky Bleier!
New York Post likes Rocky Bleier article
---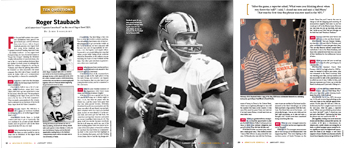 Roger Staubach
ACG interviews "Captain Comeback" on the eve of Super Bowl XLV.

January, 2010
For the past half-century, two American institutions have graced our sports landscape, and this February they join force s when Roger Staubach presides over Super Bowl XLV. Long before Staubach was "Captain Comeback" leading America's Team —the Dallas Cowboys—to two Super Bowl championships, he was a household name as "Roger the Dodger" winning the Heisman Trophy with another of America's teams, the one at the U.S. Naval Academy. Between these two distinct football careers, he willingly fulfilled his military obligation by serving in Vietnam, and when his playing days ended, he founded an ultra-successful real estate company. The NFL Hall of Famer recently sat down in Dallas with ACG correspondent John Ingoldsby to discuss his amazing life.

Roger Staubach
An Interview with the Super Bowl XLV Chairman
January, 2010
The January 2010 issue of Armchair General featured an interview titled "10 Questions: Roger Staubach." This is the uncut version of that interview, presented as an online extra for Armchair General readers—and fans of Roger Staubach!
---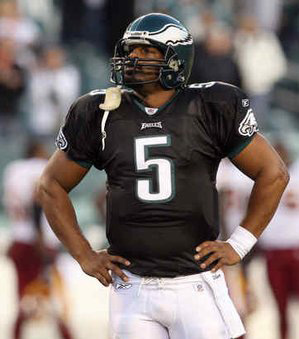 PHILADELPHIA DAILY NEWS
Eagles Notebook: Waffling on moving McNabb
March 25, 2010
ORLANDO, Fla. - Quarterback talk topped the menu at yesterday's NFC coaches breakfast, and not just at Andy Reid's table.
With Reid conceding that the Eagles are listening to offers for their three quarterbacks, the possible destination points for Donovan McNabb were a subject around the ballroom.

---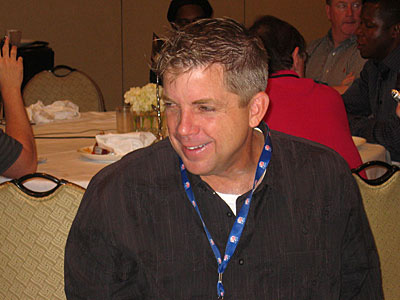 Saints were deciding on Bell until final hours
March 24, 2010
The many twists and turns in the Eagles' acquisition of restricted free agent running back Mike Bell finally ended last night shortly before the midnight deadline for the Saints to decide whether to match the Eagles' offer sheet.
Saints coach Sean Payton said this morning at the NFC coaches breakfast at the NFL owners meetings that Saints' brass was still discussing what to do at 8 o'clock last night.
"It's tough, and we were still discussing at 8 last night, but overall we looked at organization and this puzzle is bigger than just one part, which makes it hard," Payton told Daily News contributor John Ingoldsby.

---
Birds prevailed at the Bell
March 25, 2010
Saints coach Sean Payton said at the NFC coaches' breakfast that New Orleans was discussing whether to match the Eagles' offer sheet to restricted free agent running back Mike Bell hours before the midnight deadline Tuesday.
New Orleans did not match, and Bell became an Eagle.
"It's tough, and we were still discussing at 8 [Tuesday] night, but overall we looked at organization and this puzzle is bigger than just one part, which makes it hard,'' Payton told Daily News contributor John Ingoldsby.

---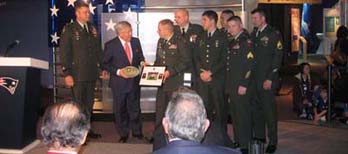 Football's famous warriors find fitting home in Patriot Place
March 1, 2010
The New England Patriots lived up to their name — and then some – on Saturday when they became the first home away from home for a tribute to football's noblest warriors.
Before a star-spangled standing-room-only crowd, the Hall at Patriot Place presented by Raytheon proudly became the new custodian of a traveling exhibit entitled "Pro Football and the American Spirit," which until now could only be seen at the Pro Football Hall of Fame in Canton, Ohio.

---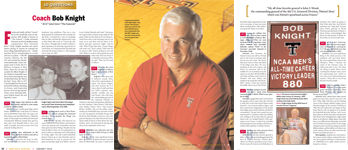 10 Questions for Bob Knight
Friends and family call him "Coach." but to his worldwide army of supporters, Bob Knight is known as "The General," a noble nickname bestowed on him by ebullient sports commentator Dick "Awesome Baby!" Vitale. Knight marched into sports history during 41 seasons by winning the most college basketball games ever—including three NCAA championships as a coach and one as a player—with 902 victories. However, his first 102 wins formed his foundational philosophy. Those conquests came at Army, the U.S. Military Academy at West point, where the 24-year-old coached the Black Knights of the Hudson's basketball team for six years, learning the ways of West Point from the "Best of the Best." From 1965 to 1971 Coach Knight lived, loved, and learned the military, absorbing its history and leadership lessons from living legends. These career-defining influences helped inspire his own legendary career.
Coach Bob Knight comments on George Patton and more
The January 2010 issue of Armchair General featured John Ingoldsby's exclusive "10 Questions" interview with legendary coach—and history fan—Bob Knight. Since ACG magazine articles are of necessity limited due to space considerations, we thought our readers would enjoy more comments from Coach Knight during his interview with Ingoldsby that we were not able to include in the magazine's "10 Questions" article.

---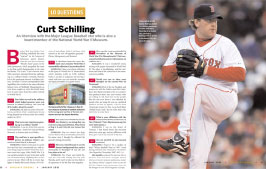 10 Questions for Curt Schilling
Boston Red Sox pitcher Curt Schilling redefined the term "warrior" in the lexicon of American sports history when he won his two famous"Bloody Sock" games in the 2004 postseason, which propelled the team to its first world championship in 86 years and broke "The Curse."
Curt's warrior mentality may have stemmed from his upbringing in a military family. Certainly, that has led to his passionate interest in military history. Armchair General correspondent John Ingoldsby, who resides in the same suburban Boston town of Medfield, Massachusetts, as Curt does, caught up with the World Series hero to learn more about his ardent interest in World War II.
---
More Sports Articles