A True Patriot
By John Ingoldsby
November, 2011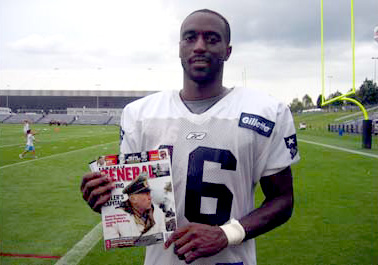 Former Navy Wide Receiver Tyree Barnes holds the recent September 2011 issue of Armchair General after finishing up training camp practice with the New England Patriots on August 9. Barnes, who was signed by the Patriots in 2009, was reinstated from the NFL's reserve military list in late July after spending two years on active duty aboard the USS Gonzalez in Norfolk, VA, near his hometown of Hampton, VA. Barnes scored five touchdowns during his 37-game Annapolis career, where his Midshipmen beat Army and Air Force each year and capped off each season with a bowl game appearance.
The Patriots also reinstated former Navy player Eric Kettani this year, while another former Midshipman and teammate of Barnes, Shun White, remains on the Patriots reserve military list. Pats Coach Bill Belichick, who has also had other former Navy players try out for the team during his decade as coach, grew up in Annapolis as the son of Steve Belichick, a Navy coach for many decades.
---
Copyright © 2011 Armchair General Magazine. All rights reserved.