Eagles Notebook: Waffling on moving McNabb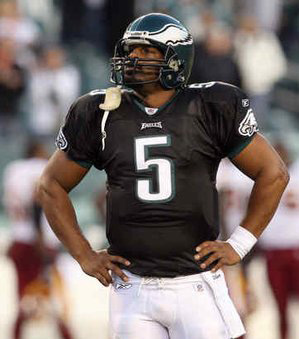 By JOHN INGOLDSBY
March 25, 2010
ORLANDO, Fla. - Quarterback talk topped the menu at yesterday's NFC coaches breakfast, and not just at Andy Reid's table.
With Reid conceding that the Eagles are listening to offers for their three quarterbacks, the possible destination points for Donovan McNabb were a subject around the ballroom.
McNabb often has been linked to Minnesota, where former Eagles offensive coordinator Brad Childress is the head coach and the Vikings are waiting on a decision from Brett Favre.
When asked about McNabb as a possible solution if Favre does not return, Childress said, "Not as of right now. I am not going to tell you that we are not going to add another quarterback to our roster, if not two more to our roster, but it would depend on which quarterbacks are out there and which are not. That's all down-the-road stuff."
In San Francisco, Alex Smith, the No. 1 overall pick in 2005, has not lived up to expectations, leading to speculation that the 49ers might have interest in McNabb.
Earlier this week, the Niners announced a "mutual parting" with general manager Scot McCloughan, who was hired in February 2005. Among his first major personnel decisions was drafting Smith.
"There is always interest, and I think as a head coach it is my responsibility to always look at ways of making my football team better," Niners coach Mike Singletary said of McNabb. "It would not be very smart to say we are set, this is the guy that is going to take us to the Super Bowl. Alex [Smith] hasn't done it yet, but I am very hopeful that he can . . .
"The question is: Can he go to that next level, that elite level? We have to provide him those tools to find out."
The Niners also signed David Carr as a free agent, but Singletary said this is not an open competition. He said he is "very confident" in his quarterback situation.
"I think [Carr] allows us to have a little more continuity in terms of having a guy like Alex, and having another guy like David that can really stretch the field in terms of getting the ball downfield," Singletary said.
"The thing that I told David the first time that I talked to him is that Alex Smith is our starting quarterback. There will be no competition in terms of, 'You guys compete and let's see who the best guy is.' Alex is our starting quarterback."
Arizona and Seattle also have been potential destinations, but both teams have made recent moves to solidify their quarterback situation. The Cardinals signed free agent Derek Anderson, who was released by the Browns. Coach Ken Whisenhunt told reporters that Matt Leinart is the starter going into training camp, but there will be a competition for the job. According to the Arizona Republic, the Cardinals have "no interest at this time" in McNabb.
Seahawks coach Pete Carroll has said Matt Hasselbeck is the starter. Seattle acquired unproven Charlie Whitehurst in a trade with San Diego and then signed him to a 2-year, $10 million deal. Carroll has indicated that Whitehurst will be developed for the future.
So, for now, there appears to be a limited appetite for McNabb in several potential NFC landing spots. But it's early in the NFC offseason calendar, with the main menu of quarterback changes still to be served.
About Westbrook
Former Eagles running back Brian Westbrook remains without a team, and Brad Childress said the Vikings are not interested at the moment, but could be in the future.
"He is a good player, and I have a lot of admiration and respect for him," Childress said. "I do not know if we are far enough down the free-agent trail yet, but he is certainly a guy that is on our board and on our list, as are others. There is no interest as of right this second, but do I respect his abilities, absolutely. I have a lot of admiration for him." *
Article taken from PHILADELPHIA DAILY NEWS