Coach Bob Knight comments
on George Patton and more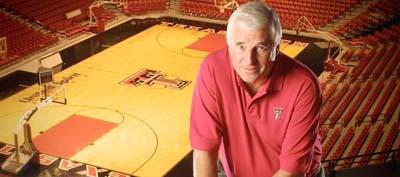 The January 2010 issue of Armchair General featured John Ingoldsby's exclusive "10 Questions" interview with legendary coach—and history fan—Bob Knight. Since ACG magazine articles are of necessity limited due to space considerations, we thought our readers would enjoy more comments from Coach Knight during his interview with Ingoldsby that we were not able to include in the magazine's "10 Questions" article.
On other West Pointers: There was a great guy there who worked with General (Leslie) Groves on the Manhattan project in World War II named John Jannerone, and he was a Rhodes scholar, and he wound up his career as Dean of Academics for many years at West Point. The vast majority of people that I met there were really, really first-rate people.
Coach Knight's 2008 Army Sports Hall of Fame induction: Colonel Earl "Red" Blaik [West Point football coach, 1941-58] was there, as was [former West Point hockey coach] Jack Riley, who coached the U.S. Hockey Team to the Gold Medal in 1960 in Squaw Valley. Also, [former West Point coaches] Joe Pallone and Eric Timpton were there. So all four of those guys I knew came. I had a tremendous relationship with Colonel Blaik, and he was one of the great coaches in American History, and I got to know him and spent several really enjoyable hours talking and asking questions of him.

On Gen. George S. Patton: He gave his players something different than the normal coach would give his team, and that was Patton and who Patton was and what Patton was, and how they could really, in the end, count on Patton. And then the second part of it was he just seemed to have a knack of knowing where to go. Like we're not going to go across this river and swim across it; we're going to go build a bridge down here so we can cross it, and we don't need to go through these, we don't need to take these fortifications, we'll surround them and go on to fight somewhere else. [Gen. Douglas] MacArthur is greatly criticized because of his ego and, yet, probably if it wasn't Patton that did it, MacArthur probably operated against more enemy personnel in the South Pacific with fewer casualties than anybody in history.
On Ohio State Football Coach Woody Hayes: Woody's attachment to Patton and Patton's legend was simply because of the kind of leader he was. He got things done. And even when he called the wrong plays or he had the wrong game plan, he somehow made it work out. And I think that's the true genius of the guy. [I discussed military history with Coach Hayes] a couple of times after I got out of school and he and I were at football and basketball clinics together, and I really, really enjoyed that. A great story on Woody was that he was pontificating on the Battle of the Bulge before the Ohio State – Michigan game, and a writer in the audience corrected him on something, and Woody really got kind of upset and said, "Damn it, how the hell do you know that?" His name was Tom Pastorius, and he was a tough guy who wrote for the Columbus Citizen Journal. He was walking away, and Woody finally chased him, "Damn it, why would you counter that? Why would you disagree with that?" And Pastorius turned around, and said, "Woody, 'cause I was there." So I always used to kid him after that, and say, "Tom, you were there."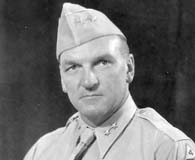 On Gen. John S. Wood: I have unbelievable respect for General John Wood, the Commanding General of the U. S. Fourth Armored Division, which was Patton's spearhead across France [1944 campaign after the Normandy breakout]. Wood was a really imposing figure. He was even bigger than Patton was. He was about 6'4". I think Patton was maybe 6'1" or 6' 2". And Wood's nickname was Tiger Jack. Wood got sent back [December 1944] when they were on the verge of crossing the Rhine when they ran out of gasoline and they sent what they had to [British Field Marshal Bernard] Montgomery. And Patton or Wood just raised hell about it. There is a book that says that had they listened to Wood, the war would have ended three or four months earlier. Wood is relatively unknown, maybe more than relatively. One of the great early tank maneuvers was in Tennessee, and Wood was either a full Colonel or a one-star general, and I forget the name of the General—it was a two-star general who was in charge of the maneuvers [editor's note: Wood's senior that Coach Knight refers to here was Lt. Gen. Ben Lear, universally feared throughout the army for his gruff, abusive leadership]. And when they were all set and they were critiquing them, and he's speaking to all the noncommissioned officers that took part in these maneuvers, this general [Lear] really blistered the non-coms and the organization, the way it was handled and everything. And when he [Lear] finished, Wood got up as a junior officer to him and countered everything that he said. So if you know anything about me, you can understand my feeling for Wood. Just wonder how many people that have ever been general officers would have stood up over that? It might have cost Wood his career, but in doing so, he was simply trying to represent the men that he thought were being unfairly vilified for what he felt had been a good job. I believe that's one of the reasons that Patton gave credit to Wood, and why I think the Fourth Armored Division had always been referred to as the spearhead of Patton's thrust across France. And you can ask me about all the tremendously famous Generals in American History, and John Wood is my favorite. [For more on Gen. Wood and Fourth Armored Division, see "Ike's Warriors," May 2009 Armchair General magazine.]
On the 1972 U. S. Olympic basketball loss: U.S. [Olympic basketball team] Coach Henry Iba was victimized by the b. s. that happened in Munich in 1972, when the Americans had won the game and the idiot from England, where they don't even play basketball, came down and overruled the referee and gave the Russians another chance. Yeah, that was really bad, really bad. I remember playing golf with Jack Nicklaus once, and that [Olympic basketball loss] came up, and he asked me what I would have done, and I said, "I'd have never gone back on the floor. I said it was over with, and that was it. And Jack said, "Well, you know, that would have created an ugly American." And I'd have said, "So be it." The game was over with. There's absolutely nothing in the rulebook that allows that guy who was president of the International Association to come down and correct the official."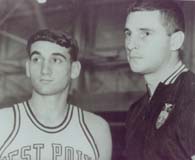 On coaching Mike Krzyzewski: In high school, he was not a very good shooter. He scored a lot on taking the ball or being pressed a lot and then they scored a lot of points and gave up a lot of points. As his coach, I told him his role was to handle the basketball, not make mistakes with it, get it to people that could score, and be able to guard the best offensive guard on the teams that we played. I can give you an example of Mike's success that I've used that's really good. We're playing South Carolina that won the ACC [Atlantic Coast Conference] Championship, then got beat in the tournament, so they couldn't go to the NCAA back then since only conference winners could go. And so they're playing in the NIT [National Invitational Tournament], and they beat the hell out of Southern Illinois, and we beat Wyoming, and we're playing South Carolina the second game, and [South Carolina's] John Roach was the MVP in the league that year. And so I told Mike that you're going to guard Roach now, and Mike held him to six points. But they played—under Coach Frank McGuire—a lot of two/three zone, and I set up our team with Mike on top of the key against the two/three zone, and I said, "Now Mike you got Oxley to your right and Simmons to your left. They shoot, you pass. I said is there any question you got about that. I don't want you to shoot the ball, Mike. Just keep that in mind. So later in the game, we're up about 14, and this is one of the games that [legendary sportscaster] Howard Cosell came to me afterward and said that's one of the great games played by a team that I've ever seen, and Mike had such a big role in that. Late in the game, Mike is alone at the free throw line. You know he hadn't taken a shot and nobody's within 5 or 6 feet of him, and he goes up to shoot the ball. And just as he's ready to release it, he takes his left hand off the ball, and he starts with the shot, he turns his hand and flips it to Oxley on the right side of the zone. I took that picture out of the film years later and sent it to him, and I signed it this way, "Mike, this pass saved your life."
Family Military Background: I don't have much of a family military background, except way, way back, I had ancestors that fought on both sides of the Civil War. And then during World War II, I had an uncle that was a Commander in the Navy. And outside of that, that's all the military background I have. I had a great, great, great uncle that got wounded in the Battle of Peachtree Junction in Georgia [Civil War], but not much that I know of beyond that.
On Generalship: Look at the lack of success that Lincoln had in the Civil War until Grant came along. Grant differed in approach from some people obviously, but his approach ended up winning the war. There's a book on Grant and Lee that kind of debunks the whole theory about Lee as a superior General. And Grant, by the end of 1865, Grant had never been in a losing battle.
Article taken from Armchair General Magazine - We Put YOU in Command! - http://www.armchairgeneral.com
URL to article: http://www.armchairgeneral.com/coach-bob-knight-comments-on-george-patton-and-more.htm