About IIR Founder John Ingoldsby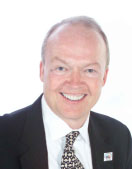 John Ingoldsby, President of IIR, Inc. of Medfield, Mass., is an award-winning corporate communications and corporate finance executive, as well as a sports journalist, who has represented more than 35 public and private companies. He was the Director of Investor Relations & Corporate Communications at Oasis Semiconductor (2nd-fastest growing technology company in New England in 2004 Deloitte Fast 50) and Palomar Medical Technologies. He was also an Account Supervisor at Sharon Merrill Associates, New England's first and largest IR agency. John also was part of the team that won the "Bell Ringer" from the Publicity Club of New England for the top Financial Relations Program in 1996. Additionally, he was also in charge of corporate finance at Certified Home Health Care, Inc. John is a graduate of St. Francis University in Pennsylvania with a BA in English/Journalism.
John has obtained media coverage for clients in The Wall Street Journal (front page), Barron's, Business Week, Fortune, Forbes, New York Times, Investor's Business Daily, USA Today, Financial Times, Boston Globe, Boston Herald, Boston Business Journal, Mass High Tech, Massachusetts Investor's Digest, Chicago Tribune, INC. Magazine, Cosmopolitan, Glamour, Allure, and Newsweek Japan. He has generated broadcast coverage through Video News Releases (VNRs) in dozens of TV stations viewed by millions, as well as on CNBC, WBZ Radio and American Health Radio.
Additionally, John wrote about NFL Player Engagement for a Special Advertising Section in Bloomberg Businessweek's annual 2012 sports issue, and has also written articles for London-based Financial Times, The Boston Globe, and The Philadelphia Daily News newspapers, as well as Armchair General, Military History, IR Update, and Industrial Distribution magazines. While a journalist, he was the first New England media representative ever chosen by the Pentagon to cover NATO war games in Europe.
Lastly, John is a guest lecturer teaching journalism and public relations at Salem State University, Curry College, and Harvard University Extension, as well as participating in a Case Study at the renowned Boston University College of Communications.