Brady And Moss Start Season Side By Side
When the Patriots take the field during the regular season, it will probably resemble a little of what transpired this morning; Tom Brady and Randy Moss walking out of the tunnel together. John Ingoldsby recounts his first impression of Moss at camp this morning, and what it portends for the duo.
By John Ingoldsby
July 27, 2007
PatriotsInsider.com
FOXBORO, Mass. -- They walked up the stadium steps side-by-side at 8:40 this morning, no one else in sight. Just the quarterback and receiver engaged one-on-one in a private conversation.
As Tom Brady and Randy Moss reached the top of the steps as one, they officially began Training Camp together for the most anticipated season in New England Patriots history.
Walking onto the practice fields full of teammates and surrounded by already-filled stands and hillside, Moss began to jog and the applause started to ripple through the stands and hillside. They dynamic duo had arrived, and fans are already salivating over the prospect of seeing the two of them together frequently, hopefully in the end zone celebrating touchdowns.
Once on the field, Brady and Moss showed flashes of what might be as they hooked up on a long bomb down the sideline to the delight of all. Moss also showed his intensity on Day One when he dropped a sideline pass from Brady, and kicked the ball in disgust.
Following the two-hour opening session, Moss addressed the need for togetherness with his quarterback.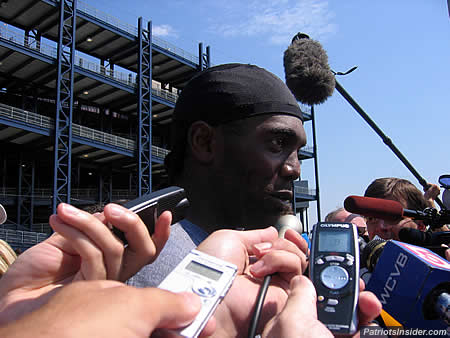 "I think that in order for us to have the chemistry on the field, we first have to build a relationship off the field," stated Moss. "That's one thing that we're trying to do. I'm not trying to step on his toes and he's not trying to step on mine. It's just a mutual friendship and we have an understanding and we have high respect for one another. Like I said, we have to start a relationship off the field in order for it to work on the field. We're starting that."
The talented receiver added, "We don't really have to click as individuals. I think we have to click as a whole unit. You have 11 players on the field and if one of those 11 lets down, then anything can happen. It's not just me and Tom who need to be on the same page. We need 11 guys on offense, 11 on defense and 11 on special teams and everybody needs to contribute. Everybody has a job to do. Hopefully we can all do that."
Legions of Patriots fans are hoping the same thing, and that this promising season ends how it began. Tom Brady and Randy Moss walking together OFF the field in Phoenix in February, only this time with a Super Bowl trophy in tow.
---
John Ingoldsby has covered the New England Patriots for various publications the past 13 years. He began writing about the NFL for newspapers in the 1970s. John is a member of the Professional Football Writers of America. You can find him on the Patriots Insider boards under the handle Rudiee.